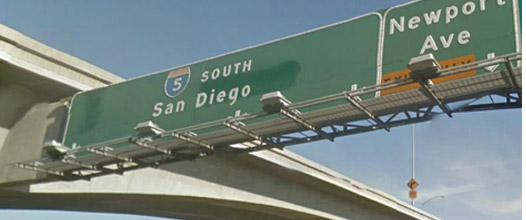 San Diego Practice Areas
One of the most challenging questions injury victims face once they believe they have a claim for compensation is this: "Which attorney should I hire to handle my case?" It can be tempting for injury victims in this situation to hire the attorney that drafted their parents' will or the attorney who handled a contract dispute for a neighbor. Just as you would not visit a pediatrician to look at a suspicious mole on your skin, so too you should not entrust your San Diego personal injury case to an attorney who is not familiar with the intricacies and complexities of personal injury lawsuits.
The Law Offices of Jeffrey Jaeger, CHTD has helped numerous personal injury victims recover compensation following:
Car, truck, and/or motorcycle crashes

Any motor vehicle crash can cause catastrophic injuries that leave one or more occupants in perilous condition and/or with permanent limitations and disabilities. These risks are magnified when the injured party was riding a motorcycle and/or when the injured party was struck by a truck. Moreover, these cases can be deceptively complex, requiring the presentation of expert witness testimony from engineers and reconstruction experts.
Premises liability accidents

Property owners who choose to open their property to others – either by inviting them over for dinner or by opening their doors to sell products or services – owe guests and visitors certain legal duties and obligations. Chief among these is the duty to take reasonable measures to discover potentially dangerous conditions present on the property. This can include slippery floors, dangerous walking surfaces, or defective staircases. If such hazards are identified, the property owner must then take additional measures to either fix the dangerous condition or to make sure guests and visitors are alerted to the condition and informed how they can remain safe.
Pedestrian and bicyclist injuries

California has a reputation for being "friendly" toward bicyclists and pedestrians (think, for example, of California's "Three-Foot Rule," designed to protect bicyclists from cars). Unfortunately, though San Diego as well as the state at large have taken measures to protect pedestrians and bicyclists, this does not stop distracted, drunk, or aggressive drivers from intentionally or unintentionally causing harm to pedestrians and bicyclists. Pedestrians and bicyclists injured in crashes are at an increased risk of suffering traumatic brain injuries, spinal column injuries, and other similar catastrophic injuries that can leave the victim paralyzed and/or with disfiguring injuries.
Wrongful death cases

A wrongful death claim alleges that one person's negligent or careless behavior caused or contributed to the death of another person. Wrongful death cases are filed and prosecuted by the surviving family members of the decedent. Not only can these cases result in compensation for the decedent's final expenses and bills, but certain surviving family members may also be entitled to compensation for the loss that the decedent's death created in their own lives.
Personal injury accidents happen every day in a city as populated as San Diego, and they happen under a variety of circumstances. However, a resourceful and experienced personal injury lawyer like attorney Jeffrey Jaeger of The Law Offices of Jeffrey Jaeger, CHTD can help victims who have been injured under a variety of circumstances. From investigating the cause of the accident to identifying the parties responsible for the accident; from preparing the initial complaint to arguing the case to a judge or jury, Jeffrey Jaeger is capable of taking the facts of a personal injury case and arguing convincingly for compensation on behalf of the injury victim.
Call The Law Offices of Jeffrey Jaeger, CHTD today at (619) 930-9090 to discuss the facts of your personal injury case today.