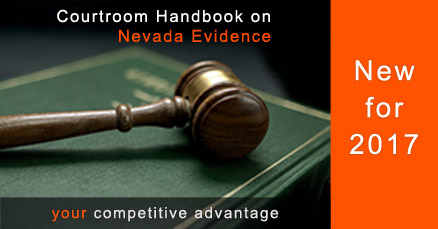 New for 2017 – The Courtroom Handbook on Nevada Evidence

The Courtroom Handbook on Nevada Evidence is a compact, all-inclusive guide to the rules and laws of evidence in the State of Nevada. Though suitable for a desk reference, the Handbook's primary role is for use while in the courtroom. By taking a practice-oriented approach, the Handbook is intended to help reduce the risk of wasting precious time or missing a potential argument. To provide a common reference point for all attorneys, Chapter 8 of this Handbook is organized by the Federal Rule Number with reference to the corresponding Nevada Revised Statutes. Chapter 8 is comprised of the annotated version of the Nevada Rules of Evidence. Attorneys can use this for quick access to relevant case law while engaged in argument. Also included are select Civil Rules of Procedure from various jurisdictions. Practicing attorneys can use this section to find the appropriate rules at a moment's notice. The tables contain a summary of common objections and responses as well as evidentiary foundations. These tables are designed as checklists for use while in the courtroom. Each checklist provides a step-by-step script to assist with courtroom evidentiary procedures.
In addition, on November 12, 2015, the Nevada Supreme Court issued an order providing that a party may cite an unpublished disposition issued on or after January 1, 2016, by Nevada's appellate courts, for its persuasive authority. As a result, beginning with the 2017 Edition, relevant Nevada appellate court unpublished opinions are included in the Handbook.
To read more about the Courtroom Handbook on Nevada Evidence or to purchase click here.