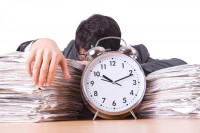 Nutton v. Sunset Station, Inc. (Nev. Ct. App. – June 11, 2015)
Rule 15(a) and Rule 16(b) of the Nevada Rules of Civil Procedure (NRCP) govern the procedures for seeking leave to amend pleadings in a civil action. Under NRCP 15(a), a party should be granted leave to amend a pleading when justice so requires and the proposed amendment is not futile. However, when a party seeks to amend a pleading after the deadline previously set for seeking such amendment has expired, NRCP 16(b) requires a showing of good cause for missing the deadline.
The issue is when a motion seeking leave to amend a pleading is filed after the expiration of the deadline for filing such motions, must the district court first determine whether good cause exists for missing the deadline under NRCP 16(b) before the court can consider the merits of the motion under the standards of NRCP 15(a).
Nutton slipped and fell while bowling with some friends at a bowling center operated by Sunset Station Hotel & Casino, shattering his right patella. At the time, Nutton was wearing his street shoes rather than bowling shoes rented from Sunset Station.
Nutton filed a complaint for personal injury against Sunset Station alleging that he slipped on a heavy concentration of lane wax or lane oil improperly applied to the approach area of the bowling lane so thickly his clothes were inundated after the fall. The complaint presented a single claim for negligence alleging that Sunset Station breached its duty of care by improperly placing excessive lane wax or oil in the approach area.
Over the ensuing months of discovery, Nutton repeated in interrogatory responses, as well as his own deposition, that he fell on excessive wax or oil so thick it permeated his clothes. He claimed the oil was thick and clear and based on his experiences, it was lane oil that he slipped on. During his deposition, Nutton was asked whether he had worn bowling shoes or street shoes when the fall occurred. He responded he had rented bowling shoes from Sunset Station on the day of the fall, but did not put them on because no employee of Sunset Station explained the need to do so. Nutton denied his street shoes played any role in the fall, testifying, "I don't find that bowling shoes would have been a factor in my slipping and because I don't see how that's pertinent. . . . I feel as though I would have fallen in the same fashion whether I was wearing my own shoes or the shoes they provide."
The parties located no other witness who saw or felt excessive wax or oil on the floor. To the contrary, Sunset Station produced an expert report concluding that a study of the bowling alley's surveillance video revealed no evidence of a foreign substance on the floor and showed other people bowling in the same approach area just before Nutton with no difficulty. Moreover, Nutton retained his own expert witness who agreed Nutton did not slip and fall from oil residue on the approach. These opinions were contained in an expert report prepared before the expiration of the deadline to amend pleadings.
Subsequently, Nutton filed a motion with the district court seeking leave to amend his complaint pursuant to NRCP 15(a). Conceding that his own expert had agreed excessive lane oil did not cause his fall, Nutton sought to amend his theory of liability to instead plead that the fall was caused by his street shoes and Sunset Station had negligently failed to ensure he wore bowling shoes while he bowled. The proposed amended complaint asserted that Sunset Station's own policies required bowlers to wear bowling shoes at all times while bowling, but employees and agents of Sunset Station breached their duty by failing to enforce the policy and permitting Nutton to bowl without them. Nutton also sought to assert that Sunset Station possessed superior knowledge regarding the risks of bowling in street shoes, yet failed to warn him of any danger.
Nutton's motion was filed approximately three weeks after the expiration of the deadline to amend pleadings previously imposed by the district court. At the time, the final discovery cutoff date was just over two months away, and trial was set to begin three months after the close of discovery. Nutton's motion to amend was also filed after the expiration of the statute of limitations period for asserting a negligence claim.
Sunset Station filed an opposition to Mutton's motion. The opposition noted that Nutton had previously denied his shoes played any role in the fall. Sunset Station also provided some photographs of signs posted around the bowling center warning of the danger of failing to wear bowling shoes while bowling. Based upon these photographs and Nutton's prior testimony, Sunset Station argued that Nutton's proposed amendment was meritless and had no chance of prevailing at trial or even surviving a future motion for summary judgment. In reply, Nutton noted Sunset Station had failed to provide any evidence regarding when the signs had been posted, and thus argued the photographs were irrelevant because no evidence had been presented demonstrating they were in place at the time of the fall.
The district court denied Nutton's motion. During oral argument, the district court expressed concern that the proposed amended complaint set forth a different theory of the case than had been alleged in the original complaint, and the motion had been filed too close to trial. The district court also suggested the amendments would probably not survive a future summary judgment motion, were one to be filed by Sunset Station. The district court's written order concluded that Nutton's motion was untimely and, furthermore, even if leave were granted, the proposed amendment would be futile given the results of the discovery already conducted.
Shortly after the district court denied Nutton leave to amend, Sunset Station filed a motion seeking summary judgment in its favor on the theory of negligence pleaded in the original complaint. Nutton's opposition conceded that no genuine issue of fact exists as to Nutton's original theory of negligence liability set forth in his original complaint. The district court granted summary judgment in favor of Sunset Station and awarded attorney fees and costs. Nutton appealed.
Nutton contended the district court erred by refusing to grant leave to amend the complaint even though discovery was still open and the allegations of the proposed amended complaint had been substantially explored during discovery. Nutton also argued that, although summary judgment was properly granted as to the theory of liability set forth in his original complaint, summary judgment would not have been appropriate had he been given leave to amend. Finally, Nutton challenged the award of attorney fees and costs, arguing that it was predicated upon the improper granting of summary judgment resulting from the district court's erroneous decision to deny him leave to amend his complaint.
Although Nutton separately challenged all three decisions issued by the district court, all three arose from a single overarching issue, namely, the allegedly erroneous denial of his motion seeking leave to amend his complaint. If the district court's denial of leave was error, then it followed that its orders granting summary judgment and awarding attorney fees and costs were also improper.
The district court denied Nutton's motion on two grounds. First, it found that the request was untimely. Second, it concluded the proposed amendment would have been futile even if it had been brought earlier in the case.
The Nevada Court of Appeals explained that NRCP 15(a) contemplates the liberal amendment of pleadings, which in colloquial terms means that most such motions ought to be granted unless a strong reason exists not to do so, such as prejudice to the opponent or lack of good faith by the moving party. On its face, NRCP 15(a) makes no reference to whether leave has been requested before or after the close of discovery, or before or after any other deadline imposed by the trial court.
One rule that frequently overlaps with NRCP 15(a) is NRCP 16(b). NRCP 16(b) requires, among other things, the district court to set deadlines in each case for various events, including deadlines for conducting various types of discovery and for filing various kinds of motions. One deadline specifically contemplated by NRCP 16(b) is one by which motions seeking to amend the pleadings must be filed with the court. Moreover, NRCP 16(b) recites that the deadlines imposed by the court under this rule shall not be modified except upon a showing of good cause.
Thus, when a party seeks leave to amend a pleading pursuant to NRCP 15(a) after a deadline set under NRCP 16(b) for filing such a motion has already elapsed, such motions implicate NRCP 16(b) in addition to NRCP 15(a) because they effectively seek a waiver or extension of that deadline so that the merits of the motion may be considered. If this were not so, and a motion seeking leave would be considered only under the standards of NRCP 15(a) no matter when it was filed, then the deadlines required to be imposed under NRCP 16(b) would become meaningless and could be blithely ignored.
The Nevada Supreme Court has never defined what constitutes good cause under NRCP 16(b), but NRCP 16(b) is based in relevant part upon Rule 16(b) of the Federal Rules of Civil Procedure. Multiple federal courts of appeal have held that, although Rule 15(a) governs the amendments of pleadings in general, Rule 16(b) governs amendment of pleadings after a scheduling order deadline has expired.
In determining whether good cause exists under Rule 16(b), the basic inquiry for the trial court is whether the filing deadline cannot reasonably be met despite the diligence of the party seeking the amendment. Courts have identified four factors that may aid in assessing whether a party exercised diligence in attempting, but failing, to meet the deadline: (1) the explanation for the untimely conduct, (2) the importance of the requested untimely action, (3) the potential prejudice in allowing the untimely conduct, and (4) the availability of a continuance to cure such prejudice. However, the Court explained that the four factors are nonexclusive and need not be considered in every case because, ultimately, if the moving party was not diligent in at least attempting to comply with the deadline, the inquiry should end.
Even where good cause has been shown under NRCP 16(b), the district court must still independently determine whether the amendment should be permitted under NRCP 15(a). Thus, the Court determined that when a party seeks leave to amend a pleading after the expiration of the deadline for doing so, it must first demonstrate good cause under NRCP 16(b) for extending the deadline to allow the merits of the motion to be considered by the district court before the merits of the motion may then be considered under NRCP 15(a).
In this case, the district court did not make findings in conformance with NRCP 16(b), but rather only applied the standards associated with NRCP 15(a). Notwithstanding this omission, the record demonstrated the district court's conclusion would have been correct even under the standards of NRCP 16(b). Nutton's motion sought to fundamentally change the factual premise of his negligence claim after the deadline for amending pleadings had elapsed, with only a short time remaining to conduct discovery. The district court concluded that, under the scheduling order then in place, insufficient time remained in discovery for Sunset Station to explore the new allegations and for both parties to prepare for trial, which was then only a few months away.
The Court noted that the record demonstrated that Nutton did not act diligently in filing his motion when he did. In particular, Nutton proffered no explanation as to why he could not have filed his motion before the deadline for doing so, especially since he asserted that both parties had already conducted discovery relating to his proposed new claim. Rather than filing the motion before the deadline, he inexplicably let the deadline elapse by three weeks. Thus, the Court found that Nutton's motion would have been properly denied under NRCP 16(b).