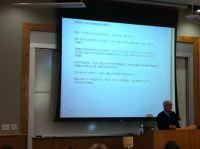 Catholic Diocese, Green Bay v. John Doe 119 (Nev. Supreme Ct. – May 28, 2015)
The issue is whether Nevada courts have personal jurisdiction over a foreign Catholic diocese.
The Catholic Diocese of Green Bay, a religious organization incorporated and headquartered in Wisconsin, employed Father Feeney as a priest. Feeney later served as a priest in California before coming to the Diocese of Reno-Las Vegas.
It was alleged that, during Feeney's time in Las Vegas, Feeney sexually assaulted John Doe. Doe sued the Diocese of Green Bay for negligently hiring and retaining Feeney, asserting that the Diocese is responsible for injuries caused by the sexual abuse.
The Nevada Supreme Court concluded that the Diocese of Green Bay did not have sufficient contacts with Nevada to show that it purposefully availed itself of the state's laws and protections. The Court also found that Feeney was not the Diocese's agent during his ministry in Las Vegas because his promise of obedience to the Diocese of Green Bay, through the ecclesiastical doctrine of incardination, was not sufficient to establish an agency or employment relationship.