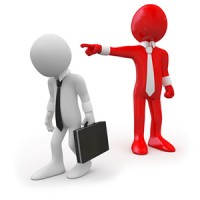 Brown v. Eddie World, Inc. (Nev. Supreme Ct. – Apr. 16, 2015)
Brown was employed by Eddie World, Inc., as assistant manager of a candy store. The store was located on property owned by Stagecoach Hotel and Casino, Inc., and both corporations (collectively, Stagecoach) were under common ownership and management. Stagecoach knew that Brown was engaged to Allen. Brown did not allege that Stagecoach ever employed Allen. Allen filed a complaint with the Nevada Gaming Control Board (NGCB) regarding some of Stagecoach's slot machines. Shortly after the NGCB informed Stagecoach that Allen filed the complaint, Stagecoach began assigning Brown's job responsibilities to other employees. Within weeks, Stagecoach terminated Brown's employment.
Brown filed a complaint in district court alleging that Stagecoach terminated her employment in retaliation for Allen's complaint to the NGCB and that discharging her was therefore tortious and in violation of public policy. Stagecoach moved to dismiss Brown's complaint for failure to state a claim pursuant to NRCP 12(b)(5). The district court granted Stagecoach's motion because Nevada had not recognized a cause of action for third-party retaliatory discharge. Brown appealed.
On appeal, Brown asked the Nevada Supreme Court to recognize, for the first time, a common law cause of action for third-party retaliatory discharge.
The Court indicated that enforcing Nevada's gaming laws is a sufficiently strong and compelling public policy to support a claim for tortious discharge. However, tortious discharge requires an employer employee relationship. Here, Brown had not alleged that Stagecoach ever employed Allen. Thus, this most basic requirement of an employment relationship involving Allen, the person whose acts led to the challenged retaliation, were not satisfied.
The Court reasoned that if it were to recognize Brown's claim, the theory of third-party retaliatory discharge would have no logical stopping point. Allen was neither a Stagecoach employee nor under any obligation to report perceived violations of Nevada's gaming regulations to the NGCB. Therefore, the Court declined to recognize a common law cause for third-party retaliatory discharge.