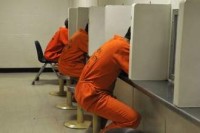 LVMPD v. Blackjack Bonding (Nev. Supreme Ct. – Mar. 5, 2015)
In 2012, Blackjack Bail Bonds made a public records request to the Las Vegas Metropolitan Police Department (LVMPD), requesting inmate call logs from the Clark County Detention Center (CCDC).
Blackjack's specifically requested, "a call log that details the description of the phone used. . . , the call start time, dialed number, complete code, call type, talk seconds, billed time, cost, inmate id, and last name." Additionally, Blackjack asked for "a list of all phones used by inmates and the phone description, including whether the phone is used to place . . . free calls, collect calls, or both."  Blackjack subsequently narrowed the scope of the requested information to calls to "all telephone numbers listed on the various bail bond agent jail lists posted in CCDC in 2011 and 2012" and conveyed that it understood "that the inmate names and identification numbers may need to be redacted."
LVMPD denied Blackjack's request, claiming that it did not possess the records.  Blackjack then petitioned the district court for a writ of mandamus to compel LVMPD to provide the requested records. The district court granted in part Blackjack's request for mandamus relief, stating that (1) the requested records were public records that LVMPD had a duty to produce, (2) the inmates' names and identification numbers must be redacted before production, and (3) Blackjack would pay the costs associated with the production.
On appeal, LVMPD argued that the requested records are not public records subject to disclosure because they (1) do not concern an issue of public interest, (2) involve communications between private entities, and (3) are not in LVMPD's legal custody or control.  LVMPD also argued that it need not produce the requested records because Public Employees' Retirement System v. Reno Newspapers, Inc. (PERS), 129 Nev. , 313 P.3d 221 (2013), prevents it from having to create a new document to satisfy a public records request.  Alternatively, LVMPD argued that if the requested records are public records, then a balancing-of- competing-interests test weighs in favor of nondisclosure because of the inmates' privacy interests and the burdens associated with production.
The Nevada Supreme Court held that the information that Blackjack requested is a public record because it relates to the provision of a public service.  The Court also found that substantial evidence indicated that LVMPD has legal control over the requested information.
Further, the Court indicated that the requested public records are readily accessible and PERS does not prevent their disclosure. The Court noted that LVMPD failed to demonstrate that the requested disclosure was financially burdensome. Therefore, the balancing-of-competing-interests test does not preclude its duty to produce the requested information.