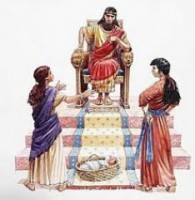 In re Estate of Murray (Nev. Supreme Ct. – Mar. 5, 2015)
The Nevada Supreme Court recently reviewed whether in a probate proceeding, the parentage of an heir can be contested under Nevada's probate statutes or the Nevada Parentage Act.
The Court noted that Under Nevada's Parentage Act (UPA) of NRS Chapter 126, a '"[p]arent and child relationship means the legal relationship existing between a child and his or her natural or adoptive parents incident to which the law confers or imposes rights, privileges, duties and obligations. It includes the mother and child relationship and the father and child relationship." The Court also acknowledged that under the parentage statutes, "a determination of parentage rests upon a wide array of considerations rather than genetics alone."
The Court believed that the Legislature, by adopting the UPA and failing to provide any independent means of determining parentage for inheritance purposes, intended for Nevada's parentage statutes to apply in probate proceedings. The Court further noted that deferring to the parentage act will equitably resolve paternity disputes when conflicts arise between presumptive and biological paternity in probate proceedings.  Thus, the Court concluded that the Nevada Parentage Act applies to parentage challenges in Nevada probate proceedings.