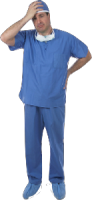 Jones v. State, Bd. of Med. Exam'rs (Nev. Supreme Ct. – Feb. 5, 2015)
On appeal, a doctor argues that the district court failed to consider NRS Chapter 13, including the doctrine of forum non conveniens, in denying her motion to change venue of a subpoena contempt petition arising from her failure to comply with an administrative subpoena issued by the Nevada State Board of Medical Examiners.
"After a preliminary investigation, respondent Nevada State Board of Medical Examiners filed an administrative complaint against appellant Carmen Jones, M.D., alleging among other things that Dr. Jones aided a third party in the unauthorized practice of medicine. In furtherance of the Board's investigation, it issued a subpoena to Dr. Jones to obtain patient records in accordance with NRS 630.140(1)(b), which authorizes the Board to issue administrative subpoenas to compel the production of documents. When Dr. Jones failed to comply with the subpoena, the Board petitioned the Second Judicial District Court, located in Washoe County, for an order compelling compliance with its administrative subpoena under NRS 630.140 and NRS 630.355."
Dr. Jones filed a motion to change the venue of the subpoena contempt petition to the Eighth Judicial District Court, which is located in Clark County, arguing that the petition to enforce the subpoena should have been brought in Clark County where she resides and practices medicine.
The district court denied Dr. Jones's motion for a change of venue finding that under NRS 630.355(1), venue in the Second Judicial District Court was proper.
The Nevada Supreme Court affirmed the district court's order holding that NRS 630.355(1) means that venue for a contempt proceeding brought by the Board under that statute is proper in the county where the administrative work of the Board is taking place.
In this case, the Board's administrative work, including its filing of a formal complaint and its previous issuance of an order of summary suspension of Dr. Jones's license, took place in the Board's Washoe County office.