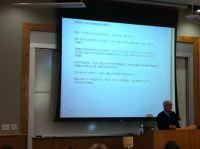 Fulbright & Jaworski v. Eighth Jud. Dist. Ct. (Nev. Supreme Ct. – Feb. 5, 2015)
This case should be of special interest to those of us who did not get enough civ pro in law school.
The issue is whether a Texas-based law firm's representation of a Nevada client in a Texas matter, by itself, provides a basis for specific personal jurisdiction in Nevada.
After extensive analysis, the Court concluded that an out-of-state law firm that is solicited by a Nevada client to represent the client on an out-of-state matter does not subject itself to personal jurisdiction in Nevada simply by virtue of agreeing to represent the client.