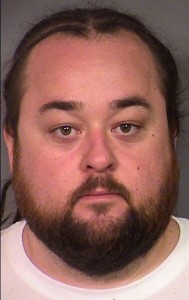 Austin Lee Russell, better known as the cast member "Chumlee" on the History Channel reality television show "Pawn Stars," was arrested on 20 felony weapon and drug charges following a search of his home on March 9. USA Today reported that the Las Vegas Metropolitan Police Department (LVMPD) were investigating an accusation of sexual assault made by a woman against the 33-year-old reality TV star.
According to the Associated Press, police seized a dozen different guns, methamphetamine, various drug paraphernalia, and nearly 5 total ounces of marijuana. Russell was arrested on 19 charges relating to possession of a controlled substance and one charge of possession of a firearm by a person using or under the influence of a controlled substance.
USA Today reported that Russell was initially reluctant to open a large vault on the ground floor for the police because he said there were "private things" inside before telling police that he had guns and marijuana "for his personal use" because he smoked "a lot of weed." Russell eventually opened the vault after police explained that the search warrant covered the vault, leading police to conclude that the possession of a gun by a user or addict of a controlled substance provided probable cause to seize all the guns and drugs.
When police officers want to search your home, you should not consent to the search until authorities have obtained a warrant. However, you must comply with a valid search warrant. Even when officers do have a warrant, you should seek legal representation to ensure that police do not exceed the scope of the powers authorized under the warrant.
Nevada Revised Statute 179.055 authorizes police officers to break open doors or windows to execute warrants when—after notice of authority and purpose—they are refused admittance. Search warrants are issued based on affidavits or oral statements that specify the types of evidence police want to search for and the places they want to search.
While the Fourth Amendment generally protects people against unreasonable searches and seizures, the United States Supreme Court's 2014 decision in Fernandez v. California essentially created a loophole under which police can search homes without a warrant when the occupants are not present to object to the search.
In Fernandez v. California, Walter Fernandez told Los Angeles police that they could not search his apartment without a warrant, but police removed him from the apartment and arrested him after suspecting he had assaulted the battered woman who answered the door. When police returned later, they persuaded the woman—whom Fernandez lived with—to let them look around the apartment.
The police found several items linking Fernandez to a violent robbery, and he was convicted of the offense after the trial court denied his motion to suppress the evidence. The Supreme Court voted 6-3 to affirm the decisions of the Superior Court of Los Angeles County and California Court of Appeal for the Fourth District, but Justice Ruth Bader Ginsburg wrote in dissent:
The Fourth Amendment guarantees to the people "[t]he right . . . to be secure in their . . . houses . . . against unreasonable searches and seizures." Warrants to search premises, the Amendment further instructs, shall issue only when authorized by a neutral magistrate upon a showing of "probable cause" to believe criminal activity has occurred or is afoot. This Court has read these complementary provisions to convey that, "whenever practicable, [the police must] obtain advance judicial approval of searches and seizures through the warrant procedure." Terry v. Ohio, 392 U. S. 1, 20 (1968). The warrant requirement, Justice Jackson observed, ranks among the "fundamental distinctions between our form of government, where officers are under the law, and the policestate where they are the law." Johnson v. United States, 333 U. S. 10, 17 (1948). The Court has accordingly declared warrantless searches, in the main, "per se unreasonable." Mincey v. Arizona, 437 U. S. 385, 390 (1978) (internal quotation marks omitted); see Groh v. Ramirez, 540 U. S. 551, 559 (2004). If this main rule is to remain hardy, the Court has explained, exceptions to the warrant requirement must be "few in number and carefully delineated." United States v. United States Dist. Court for Eastern Dist. of Mich., 407 U. S. 297, 318 (1972); see Kyllo v. United States, 533 U. S. 27, 31 (2001).

Instead of adhering to the warrant requirement, today's decision tells the police they may dodge it, nevermind ample time to secure the approval of a neutral magistrate. Suppressing the warrant requirement, the Court shrinks to petite size our holding in Georgia v. Randolph, 547 U. S. 103 (2006), that "a physically present inhabitant's express refusal of consent to a police search [of his home] is dispositive as to him, regardless of the consent of a fellow occupant," id., at 122–123.
If you are facing any kind of criminal charges following a search of your property, you should immediately contact a Las Vegas criminal defense lawyer. An attorney can investigate your case and determine whether police may have violated the terms of their warrant.
When authorities search in areas or for items not specified in a warrant, obtain warrants without probable cause, or use otherwise invalid warrants, the evidence that was seized may be inadmissible. This can leave prosecutors with a weakened case, which can lead to criminal charges being reduced or dismissed.