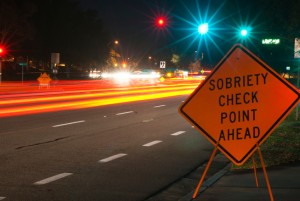 With St. Patrick's Day on Thursday, residents and tourists in Las Vegas can count on many traditions associated with the celebration of the patron saint of Ireland. People will wear green, partake in corned beef and cabbage, and enjoy Irish music at any one of the number of celebrations around the city.
Thursday also marks the first day of the NCAA Men's Division I Basketball Tournament (more commonly known as "March Madness"). The consumption of alcohol will undoubtedly accompany the festivities.
Last year, the Las Vegas Metropolitan Police Department (LVMPD) said that it arrested 30 people for driving under the influence (DUI) at a St. Patrick's Day sobriety checkpoint. According to the Las Vegas Sun, the LVMPD said that 88 of the more than 2,000 motorists that passed through the checkpoint were tested for impaired driving.
The LVMPD announced that its Traffic Bureau along with officers from the area commands will be conducting a "Sobriety Saturation" event on St. Patricks' Day from 7 p.m. to 3 a.m. with saturation units throughout the valley. As the nonprofit organization Mothers Against Drunk Driving (MADD) noted, people should count on a designated driver (DD)—not luck—for St. Patrick's Day. People would also be wise to make use of one of the 38 routes operated by the Regional Transportation Commission of Southern Nevada (RTC).
If you do happen to be stopped on the road for suspected drunk driving in Clark County, do not assume that the recent changes to DUI testing under Nevada Assembly Bill 67 (AB67) will necessarily guarantee that you can refuse to submit to a breath or blood test. Law enforcement will have judges on call throughout the day for the purpose of issuing warrants or court orders directing that reasonable force be used to obtain blood samples.
The authorization of judges helps police get around the murky Fourth Amendment issues that arose under Nevada's old system of allowing authorities to use reasonable force whenever they deemed it necessary. Many other jurisdictions around the country use popular drinking holidays like St. Patrick's Day as reason to establish so-called "No Refusal" weekends in which any motorist stopped for suspected drunk driving will be restrained for a blood test should they refuse to submit to breath testing.
Following the passage of AB67, Nevada Revised Statute 484C.160 now states that when a person fails to submit to a required test as requested by a police officer and the officer has reasonable grounds to believe that the person to be tested was driving or in actual physical control of a vehicle while under the influence of alcohol and/or a controlled substance, the officer may apply for a warrant or court order directing that reasonable force be used to the extent necessary to obtain samples of blood from the person to be tested. This means that a judge or magistrate will provide a warrant via telephone that allows a person to be physically restrained and have blood extracted.
Forced blood draws are incredibly humiliating and physical uncomfortable experiences. The suspected drunk driver may be physically restrained so a needle can be used to collect a blood sample.
Again, the simplest way to avoid this type of scenario is to plan ahead and have a designated driver before drinking any alcohol on St. Patrick's Day. If you are pulled over and arrested for DUI in Clark County, be sure to exercise your Fifth Amendment right to remain silent.
It is in your best interest to contact a Las Vegas DUI defense lawyer as soon as possible following any drunk driving arrest. An attorney can investigate the circumstances surrounding your arrest and may be able to use any police errors in the administration of chemical tests as a reason to have the criminal charges reduced or dismissed.