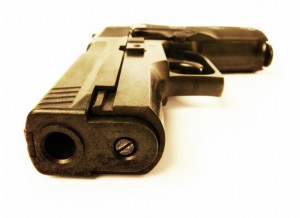 At a press conference on September 23, Las Vegas Metropolitan Police Department (LVMPD) Captain Richard Fletcher said that nearly 1,700 firearms had been reported stolen in the Las Vegas Valley this year. According to KSNV-TV, over 7,400 guns have been reported stolen since 2012.
"If you think you know where to hide your unsecured firearms in your house, so does a bad guy," Fletcher said. "I don't know where these guns are going, but we do know that some of these guns are used in crimes, and that's a problem."
The Las Vegas Review-Journal reported that 49 guns had been reported stolen across the valley in the previous week, and Fletcher said 15 of those were stolen in a single home burglary. The 1,694 firearms reported stolen between January 1 and September 5 means that Las Vegas is on pace to surpass last year's total of 2,200 firearms stolen from homeowners.
Unlawful possession of a gun can result in very serious criminal charges. Nevada state law imposes harsh penalties on alleged offenders who are convicted of stealing firearms.
Under Nevada Revised Statute § 205.226, any person who intentionally steals, takes, and carries away a firearm owned by another person commits grand larceny of a firearm. This crime is a category B felony punishable by a minimum of one year up to 10 years in state prison as well as possible restitution and a fine of up to $10,000.
Additionally, each gun stolen is charged as a separate count of grand larceny of a firearm. This means that if the alleged offender in the home burglary mentioned earlier had been caught, he or she would face 15 counts of this crime.
Alleged offenders can also face increased penalties if they are convicted felons who are prohibited from possessing weapons. This is a separate criminal offense that applies even if the alleged offender's previous felony conviction was not gun-related.
When you have been accused of stealing a firearm in Nevada, it is in your best interest to consult a lawyer who can examine all of your possible defenses. In some cases, police seize weapons as the result of illegal searches.
Oftentimes the alleged theft is actually a misunderstanding. Some people mistakenly believe they have valid ownership claims while others take firearms by accident with no intention to permanently deprive the owners of possession.
If you have been charged with grand larceny of a firearm or any other weapons crime, you should immediately seek the help of a Las Vegas criminal defense attorney. Strong legal counsel can help you get these types of charges reduced or completely dismissed.