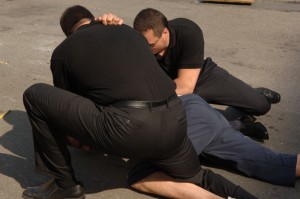 According to the Federal Bureau of Investigation (FBI), there are 33,000 violent street gangs, motorcycle gangs, and prison gangs in the United States with about 1.4 million criminally active members. The agency's 2011 National Gang Threat Assessment (NGTA) report estimated that gangs are responsible for an average of 48 percent of violent crime in most jurisdictions, and as much as 90 percent in others.
Las Vegas is certainly not immune from this reality. On June 8, the Las Vegas Sun reported that according to the Las Vegas Metropolitan Police Department (LVMPD), there are 630 criminal street gangs and 18,184 gang members in the Las Vegas Valley. The Sun noted that Nevada had one of the five highest estimated gang presences per capita in the nation with more than 6 of every 1,000 people being gang members.
The FBI notes that gangs use violent crimes to control neighborhoods and bolster illegal money-making activities such as:
Robbery
Drug Trafficking
Gun Trafficking
Fraud
Extortion
Prostitution
In its 2013 National Gang Report, the FBI included Las Vegas among its top nine U.S. cities with gang-related firearm recoveries between 2011 and 2012.
In the 1980s, the Silver State began taking steps to address the statewide increase it was seeing in gangs, gang members, and gang-related crime. In 1984, the LVMPD formed its Gang Diversion Unit to combat growing gang activity—specifically drug crimes. Beginning with the 1989 legislative session, Nevada lawmakers would enact seven statutes in the state's war against gangs. One of the most contentious was the passage of Nevada Revised Statute § 193.168.
This statute is more commonly known as "gang crime sentencing enhancement," but many were initially critical of the law when it was first passed in 1991 as Nevada's statute applied broadly to all felonies, made additional penalties mandatory, and the nature of the penalties were far more severe than any other state in the nation. The statute has since been amended in 2007 and 2009, but still carries significant penalties for alleged offenders accused of being involved in gang activity.
Under Nevada Revised Statute § 193.168, an alleged offender who is convicted of any "felony committed knowingly for the benefit of, at the direction of, or in affiliation with, a criminal gang, with the specific intent to promote, further or assist the activities of the criminal gang" can be ordered to serve an additional term of imprisonment. This may mean having a prison sentence possibly doubled in some cases, so long as the additional term of imprisonment does not exceed 20 years.
The statute notes that the court cannot impose an additional penalty if the primary offense is a violation of Nevada Revised Statute § 201.570, relating to criminal gang recruitment. This is one of many distinctions that a Las Vegas criminal lawyer can examine to challenge the sentence sought by a prosecutor.
If you have been arrested for allegedly committing any kind of gang-related criminal offense in Nevada, you will need to defend yourself against two charges: the underlying crime and your alleged connection to a criminal gang. Let the Law Offices of Jeffrey Jaeger, CHTD provide a complete evaluation of your case to see how we could be able to help you achieve the most favorable outcome with the fewest possible penalties. Contact our firm today to take advantage of a free, confidential consultation.